Getting started with Red Hat OpenShift Streams for Apache Kafka
Red Hat OpenShift Streams for Apache Kafka provides dedicated high-availability Apache Kafka clusters delivered as a service across your hybrid cloud environments, so you can process streamed data. The service provides a consistent experience across clouds, easily connects to other OpenShift workloads, and lets you provision Kafka instances in minutes. 
To access a quick start that guides you through setup, please follow this link to the Red Hat Console.
Create a Kafka instance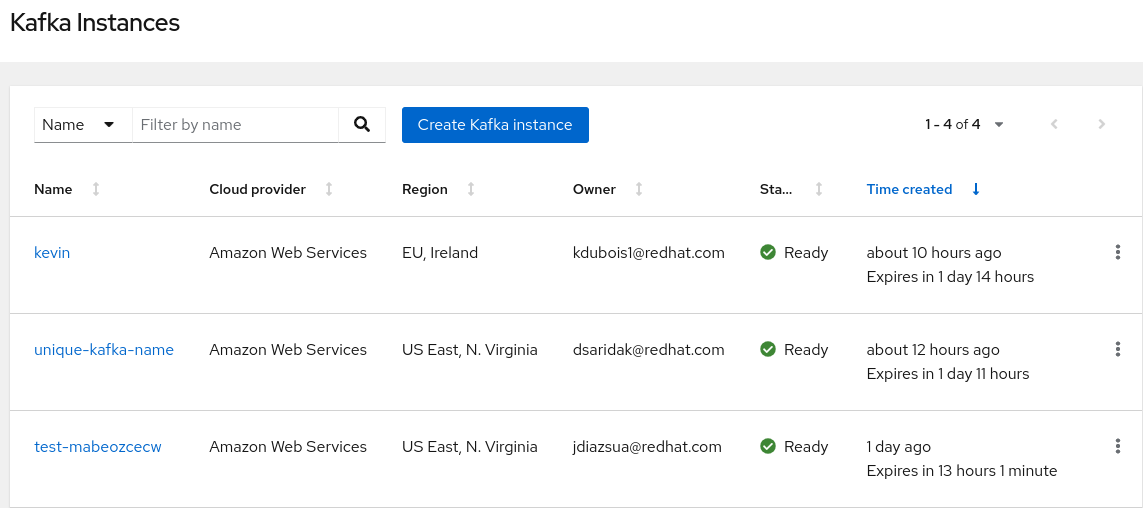 In the OpenShift Streams for Apache Kafka web console, go to Streams for Apache Kafka > Kafka Instances and click Create Kafka instance.

Enter a unique name for the Kafka instance, such as my-first-kafka-instance.
From the Cloud region drop-down menu, select your region. 
The selection for availability zones is preconfigured as Single for a trial instance and Multi for a production instance.
If you've purchased a subscription for OpenShift Streams for Apache Kafka, use the slider to select an instance size. Instances with more streaming units have more capacity.
Click Create instance to start the creation process for your Kafka instance.
Create a service account to connect your instance
To connect your applications or services to a Kafka instance in Red Hat OpenShift Streams for Apache Kafka, you need to create a service account that's associated with the instance. 
Ensure your Kafka instance is in the Ready state.
In the Kafka Instances page of the web console, for the relevant Kafka instance that you want to connect to, select the options icon (three vertical dots) and click Connection.

In the Connection page, copy the Bootstrap server endpoint to a secure location. This is the bootstrap server endpoint that you'll need for connecting to this Kafka instance.
Click Create service account to set up the account that you'll use to access this Kafka instance.
Enter a short description, such as my-service-account, and click Create.
Copy the generated Client ID and Client secret values to a secure location. These are the credentials that you'll use to connect to this Kafka instance.
After you save the generated credentials to a secure location, select the confirmation check box in the credentials window and close the window.
 
What's next?
Once your instance is created and connected to a service account, you can set permissions, create a Kafka topic, and more. For additional information on getting started with a Kafka instance, visit the quick start hub on console.